Eclipse!!
The Great Solar Eclipse of 2017 crossed the continent, from Oregon to South Carolina, and gave millions of people the chance to witness one of the most awe-inspiring events in the natural world.
But you had to be within the "path of totality", a
narrow band across the earth's surface
several thousand miles long but only about 70 miles wide. Outside that band you would only see a partial eclipse, not a total eclipse.
And there is no such thing as a "partial total eclipse", despite the impression blogs and the news media might give. I honestly think that's why so many people misunderstand the utter beauty of the spectacle; they may have seen a partial eclipse in the past that was total somewhere else, and even though they weren't in the path the news kept gushing about it being a
total
eclipse, so they assume they must have seen a total eclipse and just didn't find it all that impressive.
Posted by Dan 08/29/2017, revised 09/06/2017
IRONMAN Texas: Everything's Bigger in Texas (except the Ironman bike course)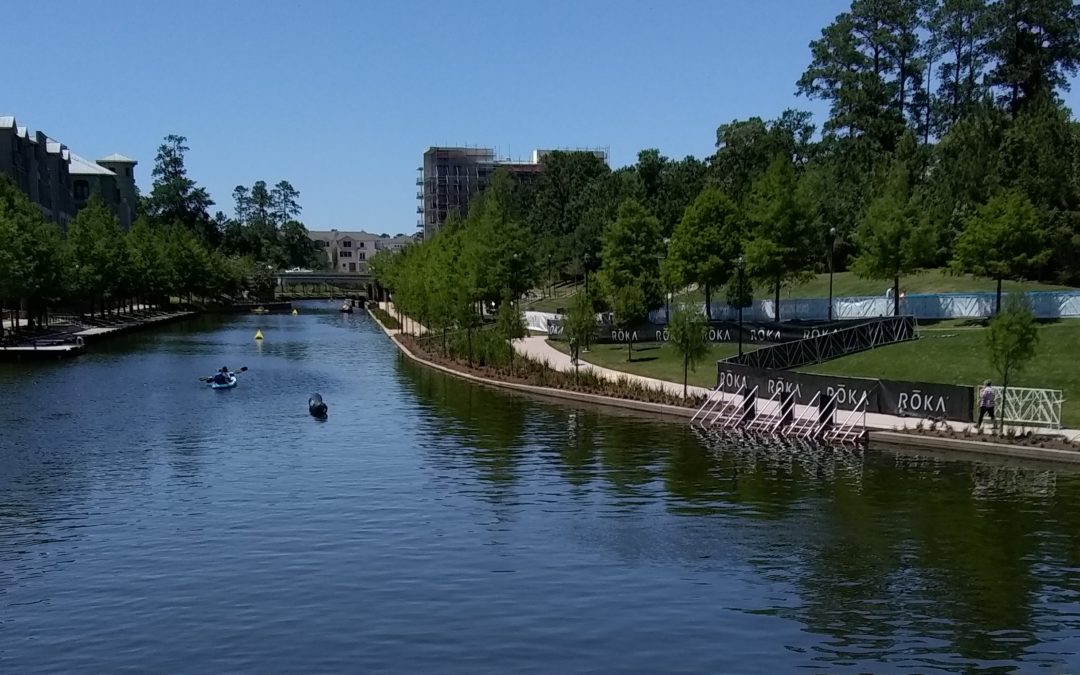 Ironman Texas gave me a lot to look forward to. I was excited to be out there fighting the good fight with people like my new coach, a handful of QT2 teammates (including last year's defending champion, Jodie Robertson), some of my heroes from Boulder, and one of my athletes from Madison.
IMTX has a reputation for being a fast course (AKA "short" course), it takes place early in the season when training feels fresh, and it's located in The Woodlands, an aptly named, beautiful suburb of Houston.
It is also designated as the North American Championships, meaning some of the top dogs would be out there, but my goals had more to do with personal execution than competition, so I was undeterred by the presence of greatness. In fact, it was unsettling how extraordinarily calm I was on race morning. There is an appropriate level of pre-race anxiety that underscores how deeply invested you are in the challenge. It should fall somewhere between "I hope to do alright today," and "I'm on my way to the Hunger Games." I had a nagging feeling that maybe my arrows should've been a bit sharper.
The race day water temperature was 74 degrees, which is much too warm for flopping around in a neoprene cocoon, in my opinion. On one hand, I was relieved that this made it a non-wetsuit swim for the pros (the cutoff is 71.6). However, since the age group cut-off is 76 degrees, this meant that the age groupers would be posting faster swim splits with their wetsuit advantage. Pro women had a ten minute head start, but by the end of the swim, age group men were coming in hot (in more ways than one, I'm sure). The swim exit was nearly in view when we were overcome by a tsunami of men, mercilessly barreling right over the handful of us who weren't fortunate enough to make it out of the water in sixty minutes or less.
The bike course wasn't as quiet as I'm used to, with such a large participant field (more than 2,500) and so many fast age group men already out ahead. My first discovery on the bike was that my power meter wasn't reading. Since power is my preferred metric for controlling my effort over a very long day, and also what I had planned to use as my measure of the day's success, this was more than a minor disappointment. But the number one rule of Ironman is: Things will go wrong.
So after wallowing in despair for a mile or so, I allowed myself to indulge in forty more seconds of pouting, then it was time to suck it up and move on. Once I got out to the main section of the course on the Hardy Tollway, I found I was keeping an even pace with two of the other pro women. Ironman abides by USAT regulations which prohibit drafting, defined as riding less than twelve meters behind a given athlete. Keeping the other two in view helped me set a good pace, and the focus on staying exactly twelve meters back gave me something positive and productive to think about. (You can measure using the lane markings in the road - the space of two painted lines is approximately how far away you need to be from the bike in front). We rode 30 or 40 miles this way, occasionally trading positions, but always staying just far enough - but not too far - from each other. By the second lap, though, I had to laugh at how deeply concerned I had been about adhering to non-drafting protocol. Around mile 60, we were swarmed by a pod of several dozen age group men shamelessly riding wheel to wheel. So much for rules.
Posted by Kimberly 05/01/2018
Like Ripping off a BandAid
Well we managed to extricate ourselves from Koh Tao last week. The trick is to do it fast and with no warning. We went down to check on tickets to Chiang Mai and found that it was either leave the next day or wait another week for availability, so we booked it and got the next boat off.
Goodells Rule!
Posted by nik 10/21/2008, revised 11/05/2008
What a year! 2008 in Review...
2008 is over. Wow. I can't even begin to collect all the happiness of this year into one thought. It's been a truly incredible ride, with more color than exists in the visible spectrum and more stories than can fit into a book of any publishable size. So how could I possible wrap it all into one neat little package of "Whitney's Life, 2008 Edition"??
I can't. But I can attempt to cluster the main sections into bite-size pieces for easy consumption. Let's see, the easiest way will be to just start at the beginning.
So...
Highlights of Whitney's 2008, now in Fun Size!
Jan thru mid-Feb: Hanging out in Corvallis, with no school, no soccer, no obligations, just enjoying life and preparing to leave for Australia. This period was characterized by:
- concerts
- house dinners
- snowboarding
- a warm and lively Corvallis house with friends coming and going (warm only in the metaphoric sense, as we kept our heating bill to a minimum!)
- hanging out in the living room playing home-made didjeridoos
- spontaneously breaking out in a funk dance-off with the roommates
- brewing beer
- ordering American Dream Pizza for delivery
- generally sharing buckets full of laughs with close friends and a great Corvallis crew

In short: I lived the beauties of college life without actually having to worry about classes or work or obligations, and without feeling like I'm just a bum... there was a shift coming in the near future. Can you ask for a better situation??


The Last Supper at the Corvallis house before I left for Australia. What an incredible group of friends!



Mid-Feb thru mid-July: life in Townsville in general. My months in Townsville were incredible. To paint a picture...
- Sunshine every day
- bicycling all around town
- Friday night beach volleyball
- ultimate frisbee
- a light class load
- rock-climbing on Mt. Stuart
- relaxing in the hammocks with my roommates almost every afternoon
- camping trips into the bush/on the beach/into the rainforest/to nearby Magnetic Island
- diving the Great Barrier Reef
- Sunday night group dinners
- Monopoly nights
- easy living, no worries, just full-on happiness.

Posted by Whitney 12/29/2008, revised 12/29/2008